H/T War History OnLine.
R.I.P. Marine Fourniez.
My young French friend, Maxence Druelle Fourniez, is the great-nephew of resistance member Marine Fourniez. Maxence achieved his ambition on February 22nd, 2021, to have Marine Fourniez's work with the French Resistance during WW2 recognized, he has particularly concentrated his efforts towards having a street in her name.
Marine was born to David and Angele Fourniez on February 12th, 1921, in Labuissière in the Pas-de-Calais region. The small family lived in a settlement in the village of Wingles near Lens. She was born into a working-class environment in the land of the mines, her family and herself were staunch Communists. The young woman wore a medallion that bore the image of Stalin, and it accompanied her everywhere.
At the end of 1942, Marine, then aged 21, went to work, without suspecting that the day would change her life.
An accident drove Marine Fourniez to bravery
She was an assembly line worker in the city's oil and gas plant, and on that day, the top of her head and her hair got caught in the tube-filling machine, inflicting a wound on her that would eventually lead to her early death. She knew that her illness could not be cured and that it would gradually get worse. So, having no husband or children, Marine decided to join the Resistance. The French Resistance gave her a code name and she operated under the alias of "Agnes." 
At the age of 22, she became a liaison officer, registration number 231, of the 2nd battalion and part of the 3rd company within the FTPF, the Front National, and within the FFI, but she was also a part of section 3, registration number 162, sector 2 within the Patriotic Militias of Pas-de-Calais.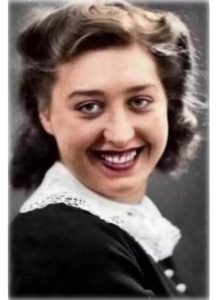 A close call with the occupying forces
From 1943 and until the Liberation, she would carry letters, orders, leaflets, newspapers, dynamite, guns, and grenades, within the Lens sector. All these operations could result in her capture and ultimately her death should she be discovered, and that was to come close more than once.
In 1943, as usual, she went to Lens station. A friend would then give her some suitcases, which she collected before boarding a train. To her shock and amazement, the train was swarming with German soldiers and officers. The Germans had noticed her joining the carriage, so it was too late to turn around. She took her courage and both suitcases in her hands, kept her cool, and decided to stay on this train at all costs, in the company of these German soldiers and officers.
Suddenly, a German officer walked towards her and grabbed her suitcases. Luckily, the officer was not suspicious of their contents and was only intending to help her and put them in the luggage rack. Marine was relieved to see that her suitcases, full of dynamite, did not burst open when slung up onto the rack.
However, the continued traveling back and forth of this young woman between Lens and Wingles did not escape the attention of the Gestapo. One day like so many others, as she passed the Lens station to retrieve briefcases full of dynamite and grenades, she felt she was being followed. She boarded the train and headed for Wingles, and whilst on the train, she realized and confirmed that she was indeed being followed by two men.
When she got off the train, the two men did the same. Marine rushed home, and told her father to hide the briefcases because the Germans are coming! David Fourniez, her father, seized them, removed the weapons and grenades, and put the weapons in the fire, without lighting it.
Two minutes later, two Gestapo agents arrived in the house. They were there to search it from top to bottom, convinced, (and they are not wrong), that they would find evidence of resistant activity.
The Gestapo agents continued to search, finding nothing, annoyed at finding nothing, they left empty-handed. The loot was safe, as were their lives and those of the rest of the family. Marine multiplied the perilous missions, going so far as to sit down, with a basket full of grenades, next to a German soldier, who luckily did not notice carried death in her briefcase.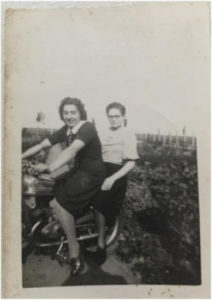 The liberation of Wingles
The day then came when the Resistance and the British liberated Wingles. That day was September 2, 1944, and cheers of euphoria and joy sounded over Wingles.
However, Marine, her father David, and their close comrades became very critical of the violence issued out by some of the French Resistance fighters of the 25th against those believed to have been "collaborators."
Marine's health continued to fail, and she passed away on March 15th, 1947. Her illness had been long and arduous, but she had ultimately won the day. 
This young soul of the Resistance had endured a long fight, waged not only with the Germans but also with her condition, and she had finally succumbed from poor health. Her courage with her illness still showed through with as much fervor as her Resistance struggle. 
Such bravery from the one they only called "Agnes."