R.I.P. Staff Sergeant Raymond Carlyle Blanton it has been a long trip to your final resting place.
The remains of a U.S. Army Staff Sergeant who was killed during WWII have been officially identified. The remains have been identified by the Defense POW/MIA Accounting Agency (DPAA), an agency that specializes in the recovery and identification of American soldiers who have been lost in the nation's wars.
Despite their relatively limited budget, the DPAA goes to extreme lengths to recover and confirm the identity of servicemembers' remains from all over the world.
The remains belong to Staff Sergeant Raymond Carlyle Blanton, who was 19 at the time of his death. He was killed during the Battle of Hürtgen Forest, a notoriously vicious battle morbidly nicknamed the 'meat grinder.'
Staff Sgt. Raymond Carlyle Blanton
Blanton was born in Richmond, Virginia, on April 21st, 1925. He was drafted into the U.S. Army in August of 1943, leaving behind his family and a girlfriend whom he planned to marry when he returned home from the war.
Blanton trained at Camp Gruber in Oklahoma, where he earned a sharpshooter badge and a promotion to Staff Sergeant. He left Camp Gruber for Europe in August 1944, but his war would be extremely brief. Upon arriving in Europe, Blanton was sent as a replacement to Company C, 1st Battalion, 60th Infantry Regiment, 9th Infantry Division.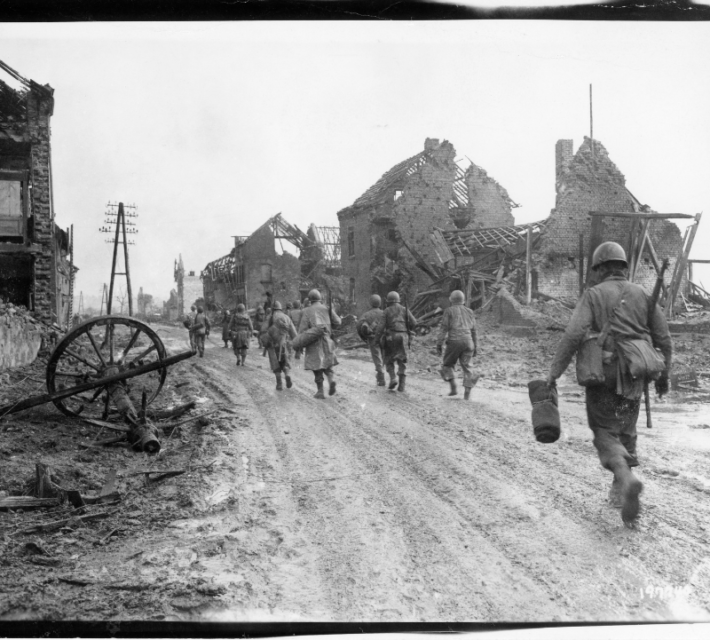 The 60th Infantry Regiment were involved in the fierce fighting in the Hürtgen Forest in October of 1944. The regiment resisted strong attacks from the Germans and managed to capture some ground, but became bogged down by the intricate and effective German defenses.
They captured a German pillbox on October 13th and attempted to capture another, but were unable to progress through the fire unleashed by the defenders. The next day they tried again, but a devastating German artillery barrage rained down on the men, killing many from C Company, including Blanton.
His comrades attempted to retrieve his body, but the relentless fighting made this impossible. After the war ended, the American Graves Registration Command (who had the task of recovering the remains of missing U.S. soldiers) investigated the Hürtgen Forest in search of missing men. Thirty-three men from C Company were missing alongside Blanton.
The American Graves Registration Command managed to find all but four of these men. Blanton was one of these four. As a result, he was listed as Killed in Action (KIA), almost exactly a year after his death, and listed as "non-recoverable" in late 1951.
The last communication his family had from Blanton was a letter he sent a week before his death. At the end of the letter, he wrote:
"Well mom, that's about all for the time, but will write again soon and you do the same. P.S. Mom, don't worry about me, I am O.K. – Love to all, Carlyle."
Identifying Blanton's remains
It wasn't until Yuri Beckers, a historian who specializes in the 9th Infantry Division, made contact with Blanton's niece, Nancy Fraker, that the identification of his remains seemed possible. Fraker was dedicated to finding Blanton's remains and had already done significant research on the circumstances surrounding his death.
Beckers and Fraker discovered that in 1946 the unidentified remains of several soldiers were recovered from the area Blanton went missing. These remains, which were possibly Blanton's, had been buried in the Ardennes American Cemetery and Memorial in Neupré, Belgium in 1950. The two shared their research with the DPAA, who then had enough evidence to disinter the remains in 2017 for identification.
Using dental, anthropological, and mitochondrial DNA (mtDNA) analysis, combined with circumstantial evidence, Blanton's remains were successfully identified in April 2020.
The Battle of Hürtgen Forest was a bloodbath that cost the U.S. dearly, and still remains the longest single battle the U.S. Army has ever fought. Today, many historians believe the battle was a pointless and tragic waste of human lives.
Blanton's name is on the Walls of the Missing at Netherlands American Cemetery in Margarten, Netherlands, but a rosette will be placed next to his name to signify his identification.