H/T Fox News.
My two cents on this scumbag is execute him immediately and make it a public execution to send a message this savagery won't be tolerated.
But sadly it won't happen.
A gunman opened fire in a Pittsburgh synagogue on Saturday morning, killing 11 people and injuring six others, including four police officers, before being taken into custody, authorities said.
Mere hours later, thousands were assembling at an intersection in the light rain to grieve for those killed and wounded.
We'll be dealing with this for months and years," said State Rep. Dan Frankel, who represents the synagogue's district and was speaking a block away when the gunfire began. "It leaves an indelible mark."
Pittsburgh Public Safety Director Wendell Hissrich said police were dispatched to Tree of Life Synagogue at 9:55 a.m. after receiving calls describing an active-shooter situation in the city's predominantly Jewish Squirrel Hill neighborhood.
In all, he confirmed 11 deaths — none of them children. As for the injury tally, he said it did not include the shooter, who was taken to the hospital after being taken into custody.
Law enforcement officials identified the suspect in the shooting as Robert Bowers, 46.
University of Pittsburgh Medical Center officials said a 61-year-old woman was among the injured. Her injuries were described as "extremity soft tissue injuries that required cleaning in the operating room." She is said to be in good condition and recovering.
Another victim was ID'd as a 70-year-old male with gunshot wounds to his torso "involving major organs in his abdomen." He was undergoing his second operation and in critical condition, hospital officials said.
Police Chief Scott Schubert said that two police officers were hit during initial contact with the shooter and that two SWAT team members were also struck "during an engagement inside the building." He confirmed that all four law enforcement officials are in stable condition.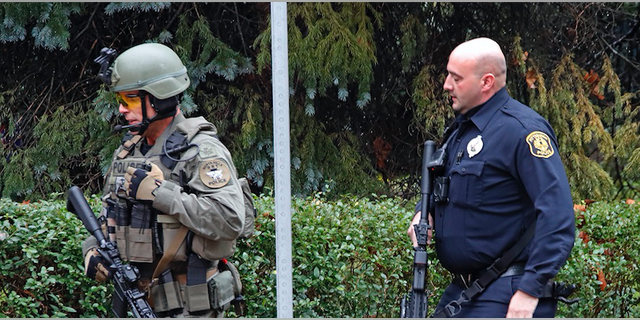 The FBI special agent in charge of the Pittsburgh office, Bob Jones, said that it was the most "horrific crime scene" he's witnessed in his 22-year career with the bureau. Jones said that the victims were targeted "simply because of their faith," but that Bowers' full motive was as yet unknown.
Bowers is said to have shouted that "all Jews must die" as he sprayed bullets, according to KDKA-TV. The attack took place during a baby naming ceremony on Shabbat, what is traditionally the busiest of days for synagogues.
Pennsylvania Gov. Tom Wolf said that the FBI is investigating the shooting as "a hate crime." That was reinforced on Saturday evening by Attorney General Jeff Sessions, who said the Justice Department intends to file hate-crime and other charges over an act he deemed "reprehensible and repugnant to the values of this nation."
The U.S. attorney for the Western District of Pennsylvania Scott Brady that authorities "expect to file criminal charges shortly, perhaps as early as today."
They believe the suspect acted alone.
"At this point we have no knowledge that Bowers was known to law enforcement before today," Jones added.